| | |
| --- | --- |
| Name of Post: | MP High School TET Result 2023 for 8720 Post |
| Post Date / Update: | 28 April 2023 | 08:00 PM |
| Short Information: | The High School Teacher Selection Test (HSTST) The Madhya Pradesh Employee Selection Board (MPESB), formerly known as the Professional Examination Board (PEB), has published the MP High School Teacher Eligibility Test (HSTET) Notification 2023. Candidates who have applied for the vacancy can now download the result for MP High School TET Result 2023. Refer to the advertisement for details regarding age limit, syllabus, post allocation by institute, selection process, and pay scale mentioned in the MP High School Teacher Eligibility Test 2023 Rulebook. |
Madhya Pradesh Employee Selection Board (MPESB)

MP High School Selection Test HSTST Recruitment 2023

Madhya Pradesh HSTST Exam 2023 Short Details of Notification

Important Dates

Application Begin: 18/05/2023
Last Date for Apply Online: 01/06/2023
Pay Exam Fee Last Date: 01/06/2023
Correction Last Date: 01/06/2023
Exam Date Start: 02/08/2023
Admit Card Available: 22/02/2023
Answer Key Available: 13/03/2023
Result Available: 17/04/2023

Application Fee

General / Other State: 560/-
SC / ST / OBC : 310/-
Include Portal Fee:
Pay the Exam Fee Through Cash at KIOSK Or Pay by Debit Card, Credit Card, or Net Banking Fee Mode Only

MP High School Selection Test HSTST  Notification 2023

Age Limit as on 01/01/2023

Minimum Age: 21 Years.
Maximum Age: 40 Years.
Age Relaxation Extra as per MP Employee Selection Board High School Teacher Eligibility Test Varg 1 Exam 2023.

Exam Name

Total Post

MP ESB Varg 1 High School Selection Test Eligibility

High School Teacher Selection Test – 2023

8720

Qualified MP High School Teacher Eligibility Test Exam in 2018 or 2023
For More Information Read the Notification

MPESB HSTST 2023 Notification Subject Wise Vacancy Details

Subject Name
Total Post 
Subject Name 
Total  Post
Hindi
509
English
1763
Sanskrit
508
Urdu
42
Math
1362
Biology
755
Physics
777
Chemistry
781
History
304
Political Science
284
Geography
149
Economics
287
Sociology
88
Commerce
514
Agriculture
569
Home Science
28

MP High School Selection Test HSTST

Selection 

Test 2023 Exam District Details

Balaghat, Betul, Bhopal, Chindwara, Gwalior, Indore, Jabalpur, Katni, Khandwa, Mandsaur, Neemach, Ratlam, Rewa, Sagar, Satna, Sidhi and Ujjain

How to Fill MP High School Selection Test HSTST Exam Online Form 2023

The Madhya Pradesh Employee Selection Board has opened online applications for the High School Teacher Selection Test (HSTST) 2023 Recruitment from May 18, 2023, to June 1, 2023.
Candidates wishing to apply through the Madhya Pradesh Professional Board must first create a personal profile, which requires an Aadhaar card number and a registered mobile number for e-KYC.
Those without a registered mobile number should create their profile via biometric at an MP Online Kiosk. Additionally, candidates must register with the Madhya Pradesh Employment Office for the recruitment application process through the Madhya Pradesh Professional Board.
For further information, please consult the full notification.
To download the MP High School TET Result, follow these simple steps:

Visit the official website of the Madhya Pradesh Employee Selection Board (MPESB) or the designated portal for the MP High School TET Result.
Look for the "Results" or "TET Result" section on the website's homepage.
Click on the relevant link for the MP High School TET Result 2023.
You may be required to enter your login credentials such as registration number, date of birth, or any other details as specified.
Fill in the required information accurately and click on the "Submit" or "Download" button.
The MP High School TET Result will be displayed on your screen.
Review your scores, rankings, and other relevant information carefully.
If needed, you can take a printout or download a PDF copy of the result for future reference.

Interested Candidates Can Read the Full MP High School Selection Test HSTST 2023 Notification Before Apply Online.

Some Useful Important Links

Result

Download Answer Key

Find TAC Code

Download Admit Card

Apply Now

Download Notification

Download Syllabus

MP ESB Official Website
MP High School TET Result – Check Your Scores and Rankings
The MP High School TET Result is finally here! Candidates who appeared for the Madhya Pradesh High School Teacher Eligibility Test can now discover their scores and rankings. This eagerly awaited result is a significant milestone for aspiring teachers in Madhya Pradesh. By checking the MP High School TET Result, you can determine your performance and evaluate your eligibility for high school teaching positions. Whether you have been anxiously waiting for success or are ready to reflect on your journey, this result brings a mix of emotions. Take the next step towards realizing your teaching dreams and accessing exciting opportunities in the education sector. Don't miss the chance to check your MP High School TET Result and celebrate your achievements.
Register for the MP High School Selection Test HSTST online form to join the recruitment process for Madhya Pradesh Professional Board's Teacher Varg I positions. Applications are open from May 18, 2023, to June 1, 2023. To apply, candidates must create a personal profile and register with the Madhya Pradesh Employment Office. Review the full notification for details on eligibility, selection process, and age restrictions. Don't miss this opportunity to advance your teaching career in Madhya Pradesh. Visit the official website and apply for the HSTST 2023 recruitment today.
The MP High School TET Result 2023 has been eagerly anticipated by aspiring teachers across Madhya Pradesh. This examination serves as a crucial step in their journey towards becoming certified educators. The result announcement brings a mixture of excitement and nervousness as candidates eagerly check their scores and rankings. It marks the culmination of months of hard work and preparation. Successful candidates will be one step closer to realizing their dreams of teaching in high schools. As the MP High School TET Result 2023 is revealed, it is a moment of celebration and reflection for all participants, regardless of the outcome.
Sarkari Exam Site 2023 : SarkariExamSite.in
"Sarkariexamsite: Sarkariexamsite.com provides all the Latest notifications of Sarkari jobs, all Sarkari Result Sarkari Naukri, Latest jobs, SarkariResult in Hindi, Admit Card, Online Form, SSC CHSL, SSC JE, SSC CGL, SSC Scientific Assistant, UPSC UP Scholarship, MP High School Teacher Eligibility Test Varg I, MP Middle School TET Admit Card,  India Post GDS, Latest Online  Form, सरकारी नौकरी, MP High School TET Result 2023,  Latest Sarkari Results, SSC, Bank, Railway, Police, UPPSC, UPSSSC & Other Sarkari Jobs Results, Government Jobs Online Form, MP High School Selection Test HSTST, Sarkari Naukri Result."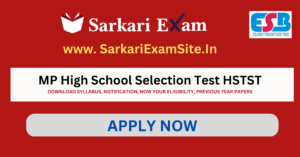 There are thousands of job vacancies in state and central government appear every year. India has 28 states, each state conducts its own government exam, and the procedure of filling out forms differs from an important role in student life to judge their performance and to prepare further. This platform offers one destination for all your queries and saves you time.
Welcome to this official website of the SarkariExamSite There are many fake websites similar to the name of the Sarkari Exam Site, so you have to be careful, to open the real Sarkari Exam Site website, just open WWW.SARKARIEXAMSITE.IN and after SarkariExamSite.in must be checked, for all kinds of updates related to jobs. you can connect with us on our social media accounts: Twitter, Facebook, Instagram, Koo, and Telegram.
Disclaimer: The Examination Results / Marks published on this Website is only for the immediate Information to the Examinees and do not to be constituted to be a Legal Document. While all efforts have been made to make the Information available on this Website as Authentic as possible. We are not responsible for any Inadvertent Error that may have crept into the Examination Results / Marks being published on this Website and for any loss of tox